Happy Family
(2017)
Familia Monstrulescu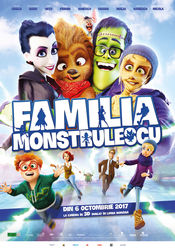 Regia
Holger Tappe
Cu
Emily Watson, Jason Isaacs, Nick Frost
Rating
Distributie
Emily Watson


Emma (voce)

Jason Isaacs


Dracula (voce)

Nick Frost


Frank (voce)

Jessica Brown Findlay


Fay (voce)

Celia Imrie


Cheyenne (voce)

Catherine Tate


Baba Yaga (voce)
Sinopsis Happy Family
Despite the title, the Wishbone family are far from happy. In an attempt to reconnect as a family, Mum and Emma plan a fun night out. However, her plan backfires when an evil witch curses them, and they're all turned into Monsters.
Trailer Happy Family
Caseta tehnica
AKA
Produs de
Ambient Entertainment GmbH
Distribuitorul international
Warner Bros.
Țara
Germania, Marea Britanie